All those magic sensations you feel hugging your children when they go to sleep.
Magic moments with daughters, sons, family, wherever you are and whatever you do, be in love.
Sleepwear for children made with organic cotton for organic generation.
Girls & Boys
Sleepwear for kids 100% organic cotton.
Vêtements de nuit pour enfants 100% coton biologique.
Girls & Boys
Girls
Nightdresses, pyjamas and robes for girls.
Chemises de nuit, pyjamas et robes pour filles.
Organic Girl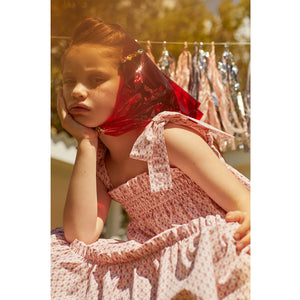 Babychi's collections
Babychi's collections consists on nightdresses, pyjamas and robes, differentiating two seasons, "FRESHY" and "WARM".
Our style is timeless, the prints and plain colors, are a perfect mix and match. The collections are very versatile and we sell summer and winter throughout the year.
With a very reduced production, we contribute to a sustainable fashion saving costs, so it allow us to make our pieces more exclusive  and varied.
French Version:
Les collections de Babychi sont constituées de chemises de nuit, pyjamas et robes tout au long de l'année, différenciant deux saisons l'une plus chaude et l'autre plus froide.
Ce sont des collections intemporelles et très polyvalentes, puisqu'elles incluent des vêtements d'hiver et d'été toute l'année, avec une production très réduite, afin de contribuer à une mode durable, ne produisant pas de grandes quantités pour réaliser des économies et être en mesure de fabriquer des pièces plus exclusives et variées.
Son style est simple avec une touche romantique, utilisant des cotons simples et des imprimés qui se marient parfaitement.Les pyjamas s'adressent à une clientèle soucieuse de la qualité pour ses enfants et respectueuse de la protection de la planète.